Devi/Durga Shlokam
Explanation
Goddess Parvati is the consort of Lord Shiva and is worshipped as Sakti. The Puranic literature describes her as having many forms, including Durga, Candi, Kali and Uma.While Siva symbolizes the efficient cause of the creation, Sakti symbolizes the material cause.
Translation
The one who is the auspiciousness of all that is auspicious (sarvamangalamangalye), the consort of Siva (Sive), who is the means of accomplishing all desires sarvarthasadhake), who is the refuge of all (saranye), the three eyed one(tryambake),the fair complexioned one(Gouri), Salutations to you, Narayani(narayani namostute).
Salutations to the consort of Sri Narayana (Sri Lakshmi Devi), who is all auspicisous, who is the Mastress of all, who blesses devotees succeed in their efforts and who is the refuge of all.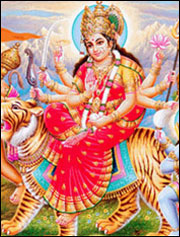 Annapoorna Shlokam
Annapoorne – the wife of Lord Shiva; She who is full of food; Sadapoorne – who is always full of resources; Sankara – of Lord Sankara(Shiva); Prana – the life-force; energy; Vallabhe – the beloved; Jnana – knowledge; Vairagya – attitude of renunciation; Siddhyartham – to fulfill the purpose of; Bhiksham – alms, food; Dehi – giveus; Namostute – we bow down to You
O Annapurna, Who art ever full, the beloved life-force of Lord Sankara (Shive, O' Parvathi – grant me alms that I be firmly established in Knowledge and Renunciation. Mother is shakti, father is shiva, relatives are the devotees of shiva and own country is all the three worlds.